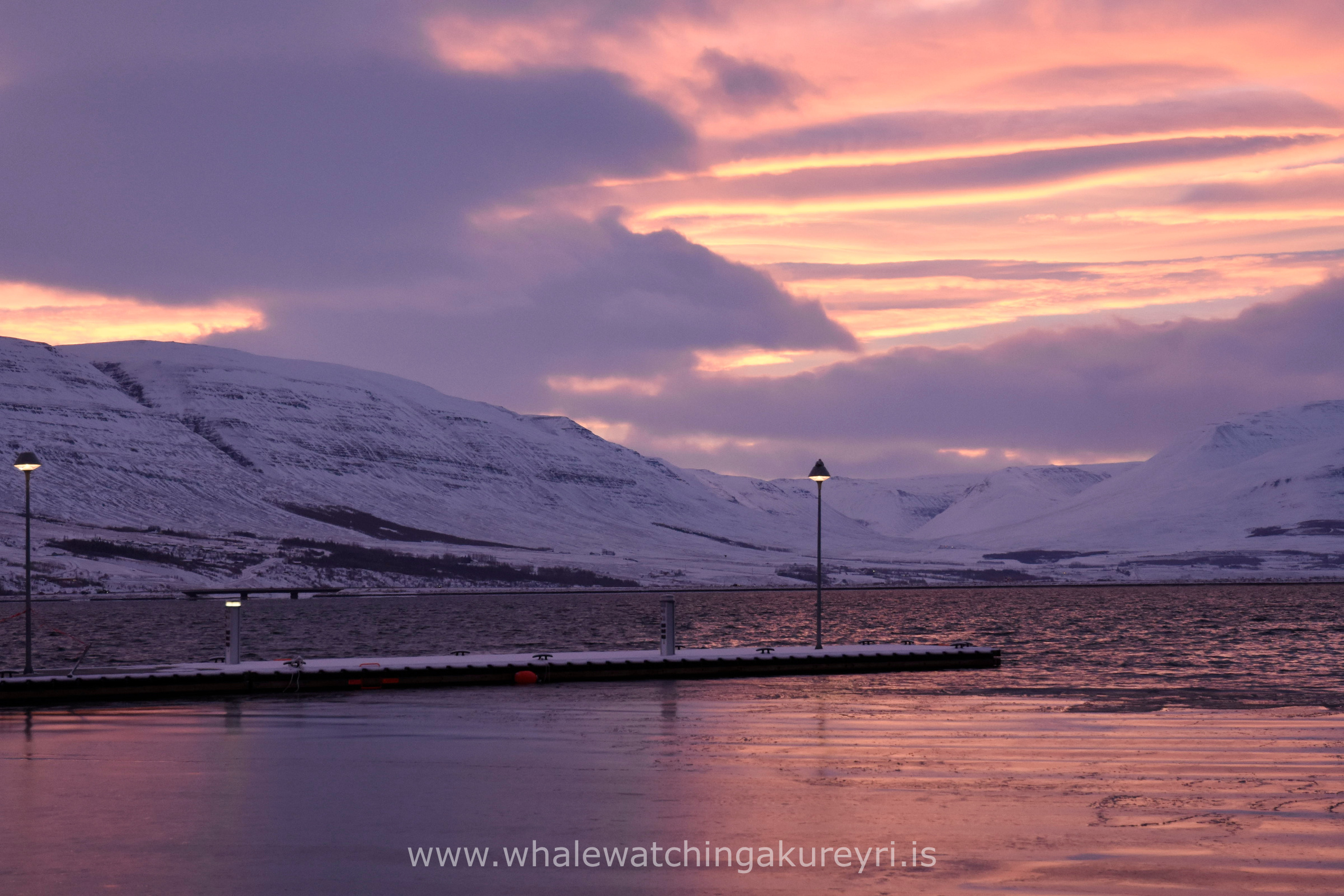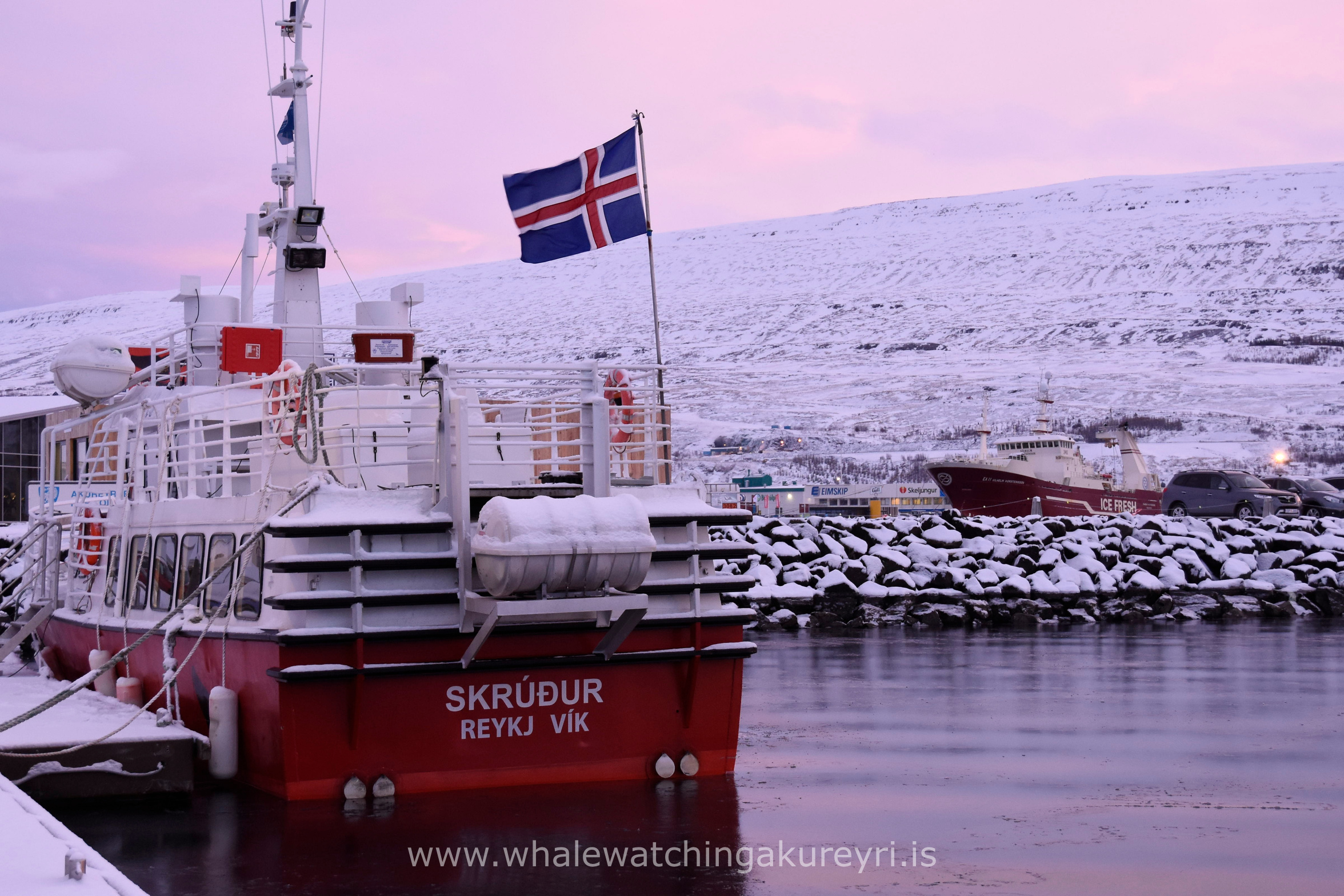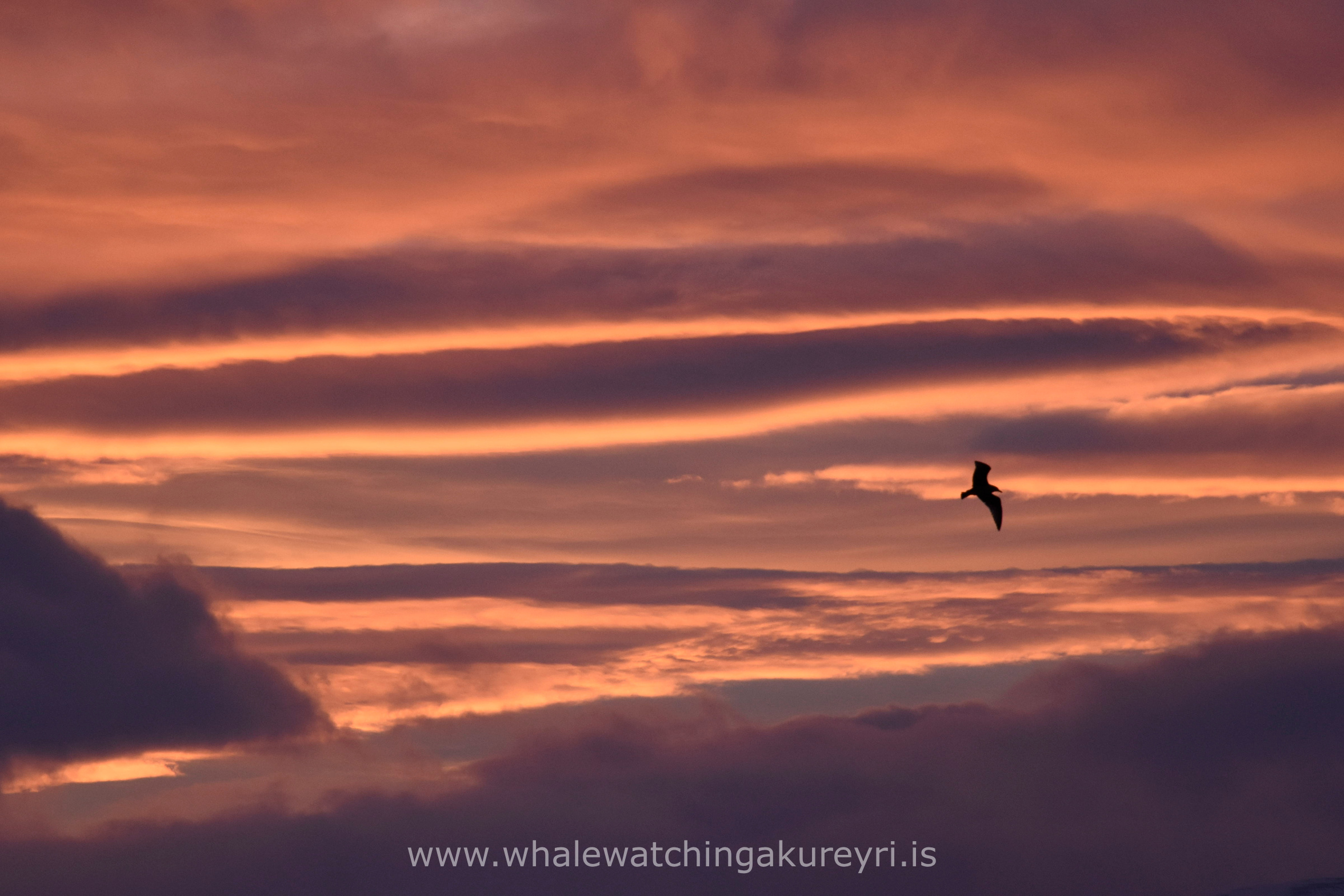 Photographs by Megan Whittaker
Whale Watching: The day started beautifully with a fresh layer of snow that was incredible beautiful but becomes less so after a while of clearing it all from the path ways and the vessel. Spirits lifted again was a breath-taking sunrise and then even more so as we sailed north along the fjord. Many seabirds kept us entertained along the way, guillemots being the most abundant bird but the odd little auk too, which are incredibly cute to see. Close to Hjalteyri we saw our first signs of cetaceans, a small pod of 2-3 harbour porpoises. Very shy usually and also the case with these individuals. We continued and just south of Hrisey we saw blows from three humpback whales. Whoo hoo! They were challenging at first but once we figured out what they were doing it was easier to approach. We were able to get quite close and for most the encounter they were just sleeping, logging at the surface not really doing anything. We had to leave them a sleep as time was running out. We got a couple of nice photos of the flukes before the fell a sleep though and was thrilled to see D'Artagnan again. D'Artagnan was first catalogued in September and last seen 2nd December so it was lovely to see our friend again after over a months absence. Easy to recognise by the fluke pattern.
Northern Lights:
It was one of those frustrating evenings. To start the forecast showed a clear sky and a activity level of 4 out 9, which is pretty good. The sky was clear so we started of great, the winds where getting stronger but as they were coming in from the south we only really felt them on the journey home. The stars were incredible, so many and the Milky Way was quite visible this evening too. The northern lights were seen but very faint, a faint green arch to the north. We were hoping it would get stronger but unfortunately it didn't. This is were it got frustrating. After we gave our passengers complimentary tickets (a chance to come free again in the next too years) and after they left the northern lights became brighter and very active. Grrrrr!
We can only hope our passengers took a late night stroll were able to see them as they were quite evident even with the strong lights of the city.
Time Lapse of the evening can be found on our facebook page https://www.facebook.com/whalewatchingakureyri/ Enjoy.